Gaming Mouse vs Regular Mouse 2019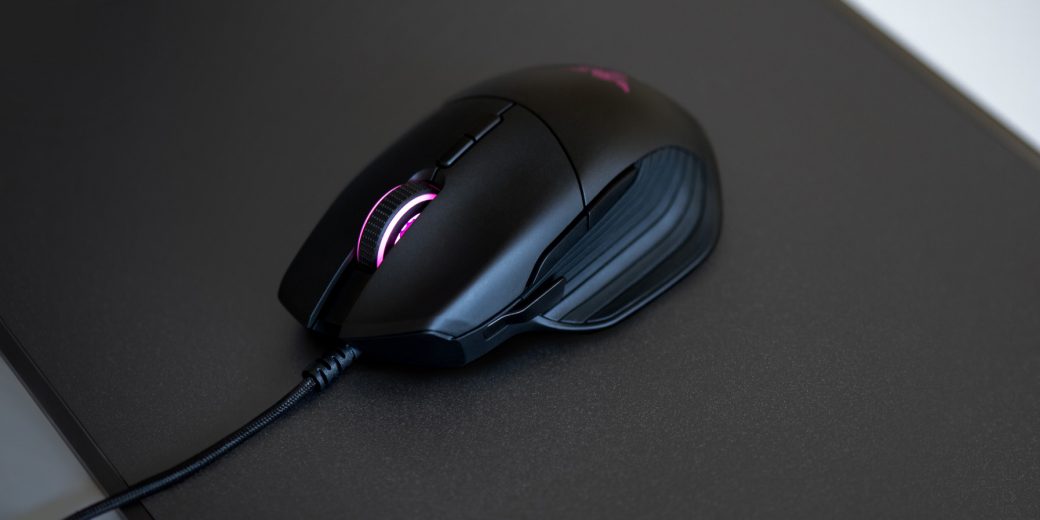 When you're searching for the right gaming mouse for your computer or laptop you might think that either a normal mouse or any old gaming mouse will be sufficient in getting the job done. Even though you recognize that this would be an integral component when interacting with the computer, you are not placing that much priority in it. In addition, majority of the people fail to distinguish between a normal mouse and a gaming mouse.
In order to clear up this topic once and for all, we have taken it upon ourselves to explain the entire concept. In this article, we individually discuss the benefits of each kind of mouse before comparing and finally reaching a conclusion on the key differences between a gaming mouse and a regular mouse.
Difference Between a Gaming Mouse and a Regular Mouse
Someone who would only be gaming on occasions may be able to just go by with a regular optical mouse that would also not cost them much. However, as soon as you would start to become more invested in your gaming and would start to take the entire experience more seriously, an investment in a good gaming mouse would definitely be needed. In fact, it would actually become a top priority if you would consider yourself to be a competitive person.
In this case, you might be wondering about what the difference would be between a gaming mouse and a normal optical mouse. So, if you would play games that would demand plenty of reaction-based actions such as first-person shooter or real-time strategy games, then you would definitely know that sensitivity and reliability would be highly important. It would even be more important if you would be playing online against other actual gamers when every small edge that you would be able to get would count. It could also mean the difference between an awful miss or a strong headshot.
So, the actual matter is that gaming mice have been constructed and designed highly differently than regular optical mice in several ways. The efforts would be more focused on strengthening the different aspects that would be crucial for a mouse when it would be used for a particular game.
In addition, a gaming mouse would also have lower latency when compared to a regular office mouse. It would come with a better software, which when customized with a bit of tweaking, would support high DPI settings. A perfect gaming mouse would also use sensors in order to keep up with faster movements.
The Best Gaming Mouse of 2019, And What To Look For In A Mouse!
In 2019 the overall best gaming mouse is the Razer DeathAdder or the Logitech G502 Proteus, depending on your play style. It's important to factor in what games you play, or what games you plat the most and purchase a mouse for that game genre. For example, a mouse which has been designed for real-time strategy and MMO would usually be outfitted with a range of 6 to 12 programmable macro button. Since this would be set under the tip of your thumb, these buttons could be programmed for executing longer macro controls or a number key.
So, even though every gamer tends to have their own personal preference when it comes to picking a gaming mouse, they are certainly not all created equally. In fact, you would be horrified to find out that there would be several worse gaming mice available in the market as well. Some of them would have sensors that would not be up to the mark, built with cheap quality materials, and even some terrible driver software.
Aiming, targeting, slashing, and attacking would be some of the important actions in PC games that would happen with a mere click of a mouse. Hence, a gaming mouse would be able to offer responsive and smooth tracking, reliable connectivity, and other basic click and scrolling functions. However, it would also take more than these basic functionalities in order to make a perfect gaming mouse.
Quality of sensor would be the starting point towards precision and accuracy. A regular mouse would usually include LED or optical sensors that would give it fairly good tracking sensitivity. However, they would perform better when lifted a little from the tracking surface. On the opposite spectrum, laser sensors would be considered fussier in the heat of a battle, but comes with better tracking. It would also be possible to have the best of both worlds by having a mouse that would feature both less delicate tracking of optical sensor and high precision tracking of laser.
The best gaming mice provide comfort and customization in order to meet the needs and wants of your preferred games. Mice which would be aimed at the first-person shooting feature ratcheting scroll-wheels would allow you to cycle to your arsenal without having to pick the wrong weapon. In addition, on the fly DPI adjustment would allow switching between fast low-DPI tracking in frantic firefight along with more tightly controlled higher DPI for lining up the shot of the sniper.
All of these gaming mice have been designed while keeping slight customization in mind, even if it would be just to tweak the speed of tracking. In fact, every gaming gear provider would develop its own customization software that would usually include advanced macro programming. In addition to record macro commands, their dashboard would also allow swapping profiles which have been preset. Several would also offer preset for non-gaming purposes which would allow you leverage programmable mouse in programs such as Excel and Photoshop.
For extreme comfort, most of the gaming mice would also be physically customizable. Removing weight has been found to be extremely common, thus allowing you to tweak the total weight by any means necessary. Few models would be taken to the advance level which would allow you to adjust the height and pitch of palm rest, and allow you to shift center of balance. All in all, finding which gaming mouse would be the best would come down to know what style of game that you would prefer and also finding what advantage you would be able to take from more complex functions.
Benefits of using a gaming mouse
Unlike what most of the people would like to think, a gaming mouse could not in any way be considered to be your ordinary computer mouse. This is because this kind of a mouse tends to come with some great features, such as customizable buttons, comfortable design, configurable weights, and much more. In terms of other benefits that you would be able to enjoy from using a gaming mouse, some of them have been listed below.
Better durability and performance
Gaming mice have been designed specifically so that they would be able to last for lengthy periods of use. In addition, they have also been made using high quality materials so that they would be able to deliver better performance. It would be because of this reason that they have been considered to be highly durable.
Ergonomic advantages and superb comfort
Being a computer user, there would be no doubt that you would be in search of a mouse that would be able to offer you with both ergonomics and comfort. So with a gaming mouse, it has been designed in a manner that it would feel comfortable despite being used for a long period of time. In fact, you would be happy to find out that manufacturers tend to take pride in gaming mice because they have been crafted in a way that would conform to the human hand much better than when compared to regular mice. Hence, it would be considered to be a practical option if you are thinking of making an investment in a gaming mouse since each and every piece of gaming mouse has been made while keeping comfort in mind. It would be because of this reason that this would seem like an excellent choice for both non-gamers and gamers alike.
More productive work being performed
When people hear the name "gaming mouse", the first thought that would come to their mind is that it would solely be designed for gaming purposes. But the truth of the matter is that gaming mice tend to come with customizable buttons. This means that they could be used to delete, copy, paste, and perform even the most basic tasks that you would often do. Also, you would find that a gaming mouse would have better tracking for smoother movement of cursor. Thanks to these features, it would allow you to be more productive with comfort and ease.
Excellent choice for gamers
Since it is a gaming mouse, obviously the first preference of users would be the gamers. Since it tends to offer big advantages over a normal mouse where gaming is concerned, it has been found to be the number one choice for gamers all over the world. As has already been mentioned above, a gaming mouse is ergonomic, thus allowing you to play games for an extended amount of time. This has also been built while keeping accuracy and precision in mind. This would be extremely important when playing fast-paced games.
Other than that, a gaming mouse would also come with well-placed buttons – something which you would not be able to find in a regular mouse. You would also be able to set the buttons in such a way that they would be able to perform a particular action.
Do not turn off
Another benefit of using a gaming mouse is that it would not turn off even if you would remain inactive for a specific amount of time. With a standard mouse, you would find it to come with a power-saving feature that would allow the mouse to turn off when it would not be in use. So, since a gaming mouse would not turn off, you would not have to face any delays in your response when you would be using the computer.
Hence, it would be safe to say that there would definitely be a lot of benefits of using a gaming mouse. So, if you are planning on buying one, it would be best to choose one that would feature added precision. A gaming mouse would usually come with a sensor offering 1600 or 2000 dpi (dots per inch). In addition, it would also be a good idea to read some reviews before purchasing. This would allow you to get an idea if the gaming mouse that you are thinking of buying would actually be highly recommended or not.
Advantages of using a computer mouse
In a computer, you would find the mouse to be one of the most common input devices. However, you would also be able to find several variations to the standard computer mouse. They could have a single or several buttons with a scroll wheel. Wireless mouse would also be available. In addition, they would also use optical light or trackballs to sense movement. However, some disadvantages would also need to be brought in to light.
Location
In order to operate a computer mouse, you would need a flat and an unobstructed surface if you would like to effectively manage and monitor movements. However, you would soon begin to realize that flat surfaces may not always be available, especially as computer users tend to become more mobile with their laptops which limit the use of a mouse. In addition, even wireless mouse would require the user of the computer to be relatively close to the computer in order to register mouse movements.
Flexibility in movement
It would be the mouse that would give the computer user the freedom to move the cursor in any direction that they would like. This would be unlike the arrows in the keyboard which would constrain the user to a limited set of directions. Also, the mouse could also be fine-tuned to each user so that movements would then be able to match with the expectation of the user. For instance, you would be able to adjust the speed of the cursor so that it would travel a shorter or further distance with the movement of the mouse. These would also be considered to be popular input devices for various computer games since they would be accurate and highly responsive for user input.
Variety
You would be happy to find out that there would be a large variety of computer mice in order to suit individual needs. Small compact mice would be available for mobile computer users or frequent travelers. Optical mice would also be available if you would like to avoid problems that would be associated with trackball-based mice, when they would become obstructed or dirty. Mice could also have a single button or several ones in order to support control as well as minimize the need to switch often between a mouse and a keyboard.
What's Best, Gaming Mouse vs Regular Mouse Conclusion
To wrap it up, a gaming mouse would undoubtedly be able to give you more customizability and options, but it would not in any way make you a better player. So, a gaming mouse could not be considered to be a shortcut to top-level play. The real reason why gamers tend to prefer gaming mice would be because of the options, comfort, and coolness factor that it tends to provide. So, nobody would actually need a gaming mouse in order to compete. All that would matter is that you would choose a mouse that would feel good in your hand. Simply put, you should focus not on the tools but how you would use them.